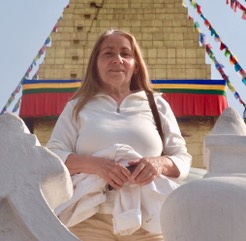 The twelve links of dependent arising
To understand what underlies our lives, we have no choice but to rely on the wisdom of a Fully Awakened One. Buddha explained in the Sūtra of Rice Seedling (Skt. Śālistamba Sūtra) that our life is based on a cause-and-effect relationship that he demonstrated with the formula of twelve interdependent links of a closed circle. The causal effect is similar to the arable soil. Non-awareness is the sower that sows the seed of consciousness. The seedling - moistened with desire - with the trait of deception is not self-dependend, because it has formed of numerous causes and circumstances.
The association Marpa Lobdra Germany e.V. contributes to education in the Buddha-Dharma. The association offers teaching programs and deepening through meditation on consecutive writings and topics.
Jane Pathan Friedewald is a disciple of Venerable Khenpo Tsultrim Gyamtso Rinpoche, who tirelessly spends most of his life developing the depth and treasure of Buddhist teaching for the Western world.
Location:
TTC-Hamburg
Harkortstieg 4 | 22765 Hamburg
http://www.ttc-hamburg.de/
Costs:
Costs contributioon for the Buddhist center TTC-Hamburg. Dana Basis
(An appropriate donation to cover costs is asked politely.)
Organizer:
Marpa Lobdra Germany e.V.
www.marpa-lobdra-germany.org
Poster:
PlakatA3_EN.pdf
Contact:
Email: info@marpa-lobdra-berlin.org
Mobile: +49 (0) 173-37 38 077
More information:
Language the teachings are held in
Depending on the spoken languages of all participants we decide whether this event will be held in English, German or bilingual.
Getting there
http://www.ttc-hamburg.de/index.php/de/ttcanfahrt
Dana
Dana as a basis for participation with the request to participate in the cost recovery. Dana means to give abundantly, so that others can continue to be lavishly helped and the Dharma can flourish profusely in our latitudes.
Dana in cash, or transfer to bank account (on request).
Need for discussion
Before, after and between sessions we provide plenty opportunities to discuss the topic in the group.
Accommodation
One can use the yoga room of the TTC as temporary accommodation. Then you should bring yourself a yoga mat / air mattress and a sleeping bag or blanket.
Also, Hamburg offers a lot of hotels, hostels, rooms to rent.